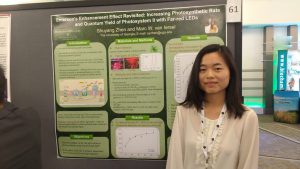 The 8th international symposium on lighting (LightSym 2016) was held from may 22-26 in East Lansing, MI. The horticultural physiological lab was well represented at the symposium. Shuyang Zhen presented her work on the importance of far-red light on the efficiency of light use in photosynthesis. Her work has shown that far-red light can increase photosynthesis under LED light, because most LEDs excite photosystem II more efficiently than photosystem I. Far-red light can be used to restore the balance between these two photosystems.
Michael Martin and Marc van Iersel both presented the lab's research on the use of chlorophyll fluorescence to optimize the efficiency of photosynthesis under LED lighting. Michaels' poster focused on our work with the biofeedback system we developed. He presented data on maintaining different electron transport rates in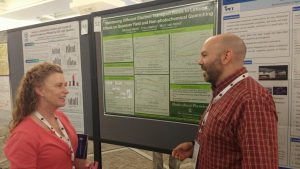 lettuce. The poster discussed how different electron transport rates affected the quantum efficiency of photosystem II, as well as heat dissipation of excess light energy.
Marc van Iersel gave an oral presentation describing the importance of more efficient lighting in controlled environment agriculture and how chlorophyll fluorescence measurements can be used to achieve. The presentation covered how the biofeedback system works as well as how chlorophyll fluorescence measurements can be used in greenhouses to quantify photosynthetic efficiency and how that is affected by different light levels.